Ingredients
2-2.5kg/4lb 8oz-5lb half pork shoulder, boned and rolled
olive oil
sea salt
3 white onions, halved
2 carrots
For the apple sauce
650g field fare frozen Bramley apple alices (defrosted)
1 sprig rosemary, finely chopped
demerara sugar, to taste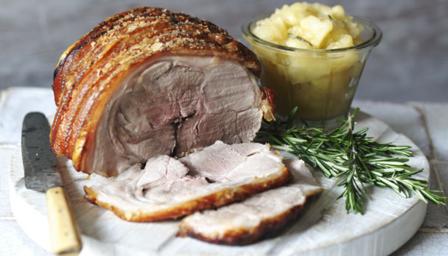 Instructions
Preheat the oven to 220C/425F/Gas 7.
Using a very sharp knife (or a clean Stanley knife) score the skin all over, taking care not to cut through to the meat (you can ask your butcher to do this for you if you like).
Drizzle the pork skin with a little olive oil and then massage one tablespoon of salt into the skin forcing it into the score marks. Put the onions and carrots into a large roasting tin, drizzle with olive oil and shake around to coat. Sit the pork on top of the vegetables and place into the preheated oven. Cook for half an hour, or until the crackling is crisp and golden-brown.
Turn the oven down to 180C/350F/Gas 4. Baste the pork with the juices from the bottom of the pan and cook for 30 minutes per kilo, or until the pork is just cooked through (the juices will run clear when pierced with a knife. Alternatively insert a skewer into the middle of the thickest part of the meat, remove and feel the skewer. The meat is cooked if the skewer it hot to touch) Baste regularly as the pork cooks.
While the pork is cooking, make the apple sauce. Put the apples into a pan with the rosemary and 50ml/1¾oz of water. Cover and cook over a medium low heat for five minutes, or until the apples have started to break down a little and soften.
Add 1-2 tablespoons of sugar and cook for a further five minutes stirring occasionally until the apples are collapsed but there is still a little texture to the apple sauce. Taste and adjust the sweetness if necessary. Leave to cool to room temperature.
Once the pork is cooked remove from the oven and leave to rest covered in foil for 15-20 minutes. Serve the pork and crackling sliced with the apple sauce on the side.
MANY THANKS TO http://www.bbc.co.uk/food FOR THIS RECIPE